Building Access
Access to buildings may be limited throughout the fall semester. Residence halls will only be accessible to residents. Academic buildings will be open during regularly scheduled classes, but will only be accessible after hours to those who have been granted access via their OneCard. Employees should limit their activities to their departmental office space or building as much as possible.
The University will provide voluntary temperature screenings for all students, faculty, staff, and guests who enter University buildings at several locations and times throughout each week. See the Health & Safety Guidance page for more details on temperature screenings.
Building Navigation & Signage
Entrances and exits will be marked, with hallways and stairways labeled for one-direction passage.
The primary entrance for each academic building is generally located on either the Quad or Reynolds Green side of the building and provides direct access to the building's main lobby. Additional entry doors for each building have been identified in select locations. Entry doors into academic buildings with card access will be unlocked automatically according to the building access schedule. Entry doors into academic buildings without access control will be unlocked each morning by UNC Asheville's housekeepers. See the list of academic building entry doors here.
Specific exit doors that serve the pedestrian traffic flow within each building have also been identified and marked. These doors will typically remain secured against entry throughout the day to minimize two-way pedestrian traffic through them. As per code, these doors will be fully functional for exiting the buildings. Directional signage has been posted at each exit door describing the location of the closest entry door.
During periods of high-traffic, such as class changes or the start and end of workdays, please follow the directional signage in each building. If traffic and potential interaction with others is minimal, please adhere to social distance guidelines to determine your route and keep to the right sides of hallways.
If you have accessibility requirements that may include the need to have special access to a restroom, access to a specific building entrance or exit, direct access to stairs or elevators, please move throughout the building as needed, while maintaining social distancing and keep to the right sides of hallways.
All buildings will have directional signage indicating standard social distancing practices, from one-way hallways and stairways to minimize crossing paths, designated entrances and exits, elevator protocols, and line spacing to stay 6 feet apart. Below is a sample of signage you will see: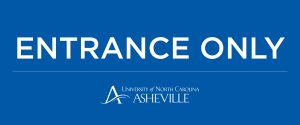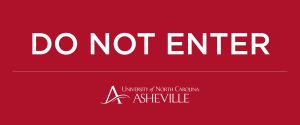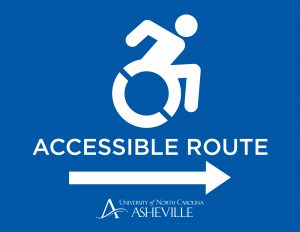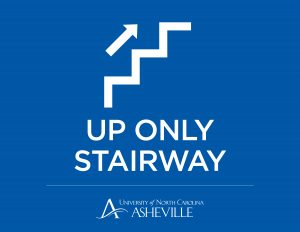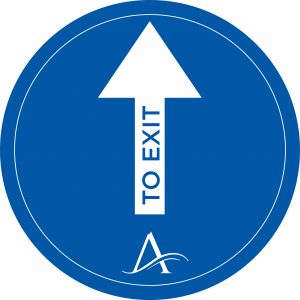 Need to order signage for your area? All orders must go through Campus Operation. Visit the Downloads & Order Signage page for more information.
Elevator and Stairwell Protocol
Elevators are limited to one person at a time. Masks must be worn at all times, including when using the elevator. Please respect and reserve the elevators for those needing the physical accommodation.
Using stairways is encouraged but please remain mindful of physical distancing and common touch points, and wash your hands or use hand-sanitizer after use.  Stairways will be one-direction – up or down – where feasible, so please look for directional signage.
Office Etiquette
If you work in an open environment, be sure to maintain at least 6 feet distance from co-workers. If possible, have at least one workspace separating you from another co-worker. You should wear a face mask or face covering at all times while in a shared work space/room.
Departments should assess open work environments and meeting rooms to institute measures to physically separate and increase distance between employees.
If you work in an office, no more than one person should be in the same room unless the required 6 feet of distancing can be consistently maintained. If more than one person is in a room, masks/face coverings must be worn at all times.
Masks/face coverings should be worn by any staff in a reception/receiving area. Masks/face coverings should be used when inside any facility where others are present, including walking in narrow hallways where others travel and in break rooms, conference rooms and other meeting locations.
While on-site, you are encouraged to communicate with your colleagues and supervisors as needed by email, instant message, telephone or other available technology rather than face-to-face, to limit the need to travel through campus.
Classrooms and Shared Spaces
Classrooms will be reconfigured to support social distancing where possible, which means that desks will be spaced further apart. In larger classrooms, or those with fixed furniture, signage will indicate open seating areas, directions for movement and other details.
Face masks and shields will be required in classrooms. Faculty and staff reserve the right to refuse service if masks are not worn in the classroom or office spaces.
General use classrooms and computer laboratories will be opened each morning by UNC Asheville's housekeepers. These spaces will normally remain open or unlocked throughout each weekday. Because there are some doors that have hardware that allow doors to be opened but not unlocked, there may be instances when a door is inadvertently closed and locked during the day. A faculty member encountering this and needing access to a room should contact Campus Police.
Classroom doors and buildings are secured for the night by Campus Police when they conduct their evening building sweeps.
Kitchenettes and Meals on Campus
Employees should clean shared kitchen areas before and after use, and if packing their lunch should keep it separated from others.
Before and after eating, you should wash your hands thoroughly to reduce the potential transmission of the virus.
If you are eating in your work environment (break room, office, etc.), maintain 6 feet distance between you and others. Individuals should not sit facing one another. Only remove your mask or face covering in order to eat, then put it back on. Departments should remove or rearrange chairs and tables or add visual cue marks in employee break rooms to support social distancing practices between employees. Wipe all surfaces, including table, refrigerator handle, coffee machine, etc. after using in common areas.
Restrooms
Use of restrooms should be limited based on size to ensure at least 6 feet distance between individuals. Wash your hands thoroughly afterward, and adhere to personal disinfection protocols for cleaning the space before and after use.
Restrooms with multiple stalls will have signage indicating closed or out-of-order toilets to adhere to social distancing guidelines.
Athletics Protocol
UNC Asheville Athletics will closely monitor local, state and national developments and update our standards and safety protocols, as needed. The safety of all Bulldog student-athletes, coaches and athletics staff will always be the top priority.
All athletics staff, coaches, and student-athletes will be educated via email and Zoom regarding new health and safety and building protocols. Education will begin following approval of our resocialization plan. Athletics staff and coaches will be asked to park in certain parking lots dependent on point of building entry. All athletics staff and coaches will be provided additional informative and educational materials to help ensure a safe return to campus. Basic COVID-19 protocol will be expected of all athletics staff, coaches, and student-athletes returning to campus to include wearing a mask, washing hands frequently and social distancing.
Student-athletes will return to campus in phases based on their sport beginning in July and will have six weeks to train and practice prior to competition according to NCAA and Big South Conference protocols.
Workout Areas
In coordination with Clean Environments and selected athletics staff and coaches, areas will be sanitized/disinfected throughout the day with special attention placed on the Athletic Training Room, Olympic Weight Room, and Locker Rooms. Athletics staff and coaches will be responsible for disinfecting and sanitizing equipment at the conclusion of each practice session.