Spring 2021 Student Health Ambassador Awards at UNC Asheville
As the spring 2021 came to a close, the Student Health Ambassadors recognized five unique awards – given at each campus. The UNC Asheville recipients include:
Kate Adams, Leadership Award: This SHA has been an awesome leader (either formally or informally) during the last year
Alex Pritchard, Creative Genius Award: This SHA was consistently creative and helped us show off our work over the last year
Kat Stulpin, Helping Hands Award: This SHA was willing to help whenever and wherever it was needed
Lola Stephens, Spirit Award: This SHA embodied everything we wanted our program to be
Baye Samodal, Team Player Award: This SHA worked across teams and supported us all in being successful
UNC Asheville's SHA Program also earned Student Organization of the Year at the annual LEAP Awards, and advisor Jordan Perry, healthy campus liaison, was awarded Student Employee Supervisor of the Year.
Next Steps for UNC Asheville's Student Health Ambassadors in Spring 2021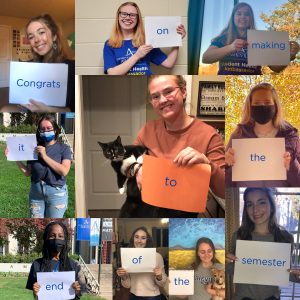 In fall 2020, UNC Asheville's Student Health Ambassadors amassed 1,791 in-person and virtual support hours, planned and implemented 32 events, and encouraged students to walk more than 2,051 miles in a step challenge. That's more than 4 million steps, and it's just one example of their multi-faceted work across campus and in the region, and the many steps they implemented to curtail the spread of COVID.
Throughout the semester, 45 Student Health Ambassadors contributed to the campus experience, encouraged community expectations during COVID, and found ways to connect with fellow students, from text messages during quarantine and pen pal programs with regional universities to steps they could take toward health and wellness and virtual visits around the world.
"This has truly been an experiment in the power of student leadership and seeing what we could do in peer education," said Jordan Perry, UNC Asheville healthy campus liaison.
Funded in fall 2020 through an NC Policy Collaboratory Grant, which also funded Student Health Ambassador positions at Western Carolina University, the work was extended to Brevard College, Mars Hill University, Montreat College and Warren Wilson College through a partnership with MAHEC and collectively reached 22,000 college students through 93 positions. Now their work is being shared with Temple University, presented at national conferences and soon to be published in a practice paper.
It's also continuing thanks to a spring 2021 grant from MAHEC that funds 20 Student Health Ambassadors at UNC Asheville, continued evaluation efforts, and SHAs at the other five campuses. In addition MAHEC is funding a coordinator for the Social Bridging project a collaborative effort between UNC Asheville and UNC Health Sciences at MAHEC which trains and supports wellness volunteers to reach out by phone to socially isolated older adults in WNC to increase social connectedness.
"The situation of COVID in our area right now is drastically different this semester than last semester. We are going to have to figure out new ways to encourage students…. We want to create ways to limit COVID fatigue among students, faculty and staff," said sophomore Casey Kellogg, who's first step is working with Campus Recreation to implement another step challenge.
"From the beginning when we first got hired, it was solely focused on COVID, but as we learned more about COVID and our campus and what we needed, we learned that so much more goes into it…. There are so many things that tie into this work. Our themes each week helped students fill in those holes to prevent COVID," said senior Skyler Chillson.
Chillson is also one of several Student Health Ambassadors who have also volunteered with vaccine distribution in Madison and Henderson Counties through MAHEC.
"I was able to volunteer at the Madison County Health Department for vaccine distribution," said Chillson. "It was so empowering and uplifting, and it made me hopeful."
That's the hope coming into the spring semester as well, informed by the results from the fall and built upon community expectations and the three W's – wearing a mask, waiting six feet apart, and washing hands frequently.
"Student Health Ambassadors reported having a strong impact on other, non-COVID related health initiatives and increased attention to personal daily health and wellness routines," said Meredith Silver, research assistant at the North Carolina Center for Health and Wellness, which lead evaluation of the initiative in collaboration with NCCHW Director of Partnership and Evaluation Emma Olson and faculty members Lyndi Hewitt and Cathy Whitlock.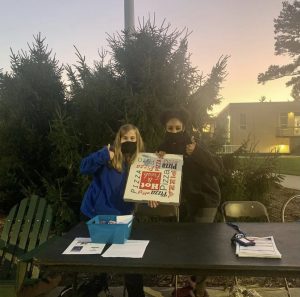 Silver also cites that SHAs learned team-building skills and collaboration, the importance of using credible sources and that making a connection is the first step in creating change. Surveys show that they had an impact supporting students on campus and decreasing rates of COVID-19 on campus, with 95.9% of survey respondents indicating that they wore their masks while on campus.
At the end of the fall semester, UNC Asheville had the lowest prevalence of cases in the UNC System.
UNC Asheville's Student Health Ambassadors continue this work in spring 2021 and will be joined by Student Course Ambassadors. These 20 or so positions receive funding from the Mellon Foundation Presidential Grant, providing up to 100 hours of support each, to assist in technical needs for courses during the spring 2021 semester. Course Ambassadors can provide technical assistance for in-person classes where instructors are teaching dual-modality/hyflex ways.
"Our SHA work is one piece of the puzzle. We had a lot of things going for us and so many faculty, staff, and students worked to make the fall semester a success," Perry said. "SHAs are experts in their own experience… My hope for them is that they leave this role knowing they can do this kind of work and to trust their instincts and experience. If you set reasonable goals and follow through on them, you can do really incredible things."
Learn more by following the UNC Asheville Student Health Ambassador Instagram @unca_sha.
---
Vaccine Information
---
In the News
Partnership Stories
---
Ask a Student Health Ambassador Videos
The SHAs share tips on talking to friends and colleagues about health and safety on campus during COVID-19.
About Quarantine Care
Tight Spaces
Support for Symptoms
Masks in Residence Halls
Social Distancing
In Through the Out Door
---