Student Health Ambassadors Offer Peer Support and Expertise During COVID-19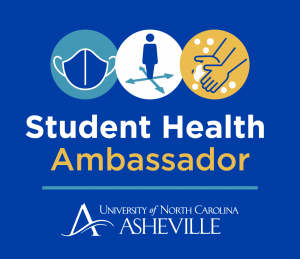 By the time students returned to campus for Fall 2020 classes, UNC Asheville's staff and faculty had campus ready, with new protocols in place, signage to direct traffic-flow through buildings, and masks and hand-sanitizer packaged for pick-up. But with the masks also came an opportunity to wear a metaphorical cape, and to serve as a super hero for campus by finding ways to fight COVID-19 through prevention. However, instead of that cape, this cohort wears a t-shirt, with Student Health Ambassadors emblazoned across the back, and this small, but mighty team is working across campus to connect with students, answer questions, and proactively provide resources to help the community stay safe and healthy.
"We're trying to change culture. And having white-haired health professors tell students to wear a mask, wash their hands, and wait, is not going to work nearly as well as communicating peer-to-peer," said Amy Joy Lanou, professor of health and wellness, executive director of the N.C. Center for Health and Wellness at UNC Asheville, and project director. She, along with Jordan Perry, Kenda Mullert, and many others on faculty and staff are teaming with 45 newly-hired Student Health Ambassadors (SHAs) to make an impact across eight areas, ranging from communication to wellness.
The students work in specialized teams, each one supported by a faculty or staff member.
"The role of the ambassadors is not to enforce mask or distancing policies, but to role-model them and support their peers in a positive way," said Perry.
By mid-August, the Student Health Ambassadors collaborated with Athletics to imagine fall sports Olympics and Bulldog Field Day, they've developed a Moodle course for students and scheduled Zoom calls to explain contact tracing, and they started an on-campus mask laundering pilot program in partnership with the Drama Department's Costume Shop. They also provide support and deliver meals for isolated or quarantined students.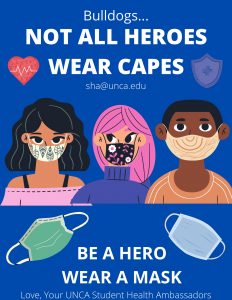 Student Health Ambassadors can be found at four Support Stations across campus or through virtual office hours on Fridays from 10-11am (more hours may be added based on demand), and on social media @unca_sha on Instagram. Faculty can schedule class visits and presentations, and individuals may request wellness coaching sessions.
The Student Health Ambassadors are also advised by a strong group of faculty and staff, including Amy Jessee from Communication and Marketing, Leah Belt and Blake Covington from Campus Recreation, Dr. Sarah Donelly, Dr. Fabrice Julien, and Dr. Laura Jones from Health and Wellness, Dr. Christine Boone from Music, Lise Kloeppel from Drama, and Dr. Linda Cornett and Dr. Giovanny Pleites-Hernandez from Political Science. In addition, this project (and other elements of the grant) will be evaluated by Dr. Lyndi Hewitt from Sociology and Anthropology, Cathy Whitlock from Mathematics, and Emma Olson from the NC Center for Health and Wellness. Katie Cox from Health and Wellness, Karla Piccirillo and Regina Holmes from Human Resources, Lisa Mann and David Earnhardt from the Career Center, Jay Cutspec from Health and Counseling, David Weldon from Emergency Management, Co-Kema Hines from Student Affairs, Meghan Ibach from Dining Services, Chancellor Cable, and Provost Campbell have all provided vital support for these students. Countless faculty and staff have contributed and this is truly a community effort.
The ambassadors' work is supported by the COVID-19 prevention grant from the N.C. Policy Collaboratory at UNC-Chapel Hill, which also is funding a smaller number of students to conduct undergraduate research on the efficacy of the ambassadors' work with the support of the University's N.C. Center for Health & Wellness (NCCHW). The grant also will pay for a statewide co-morbidity study by the Departments of Health and Wellness and Math in Collaboration with Mountain Area Health Education Center and the NCCHW of those who have died of the coronavirus, and for social bridging work to lessen the isolation of older adults in our area.
Follow the SHAs on Instagram for more resources.
---
In the News
Partnership Stories
---
Ask a Student Health Ambassador Videos
The SHAs share tips on talking to friends and colleagues about health and safety on campus during COVID-19.
Tight Spaces
Support for Symptoms
Masks in Residence Halls
Social Distancing
In Through the Out Door
---