Printable Informational Signage
Click the images below to download and print.
For additional signage needs, please contact communication@unca.edu.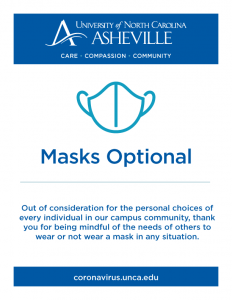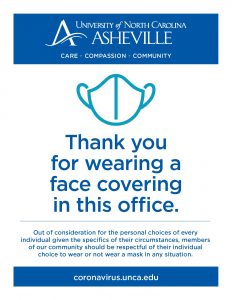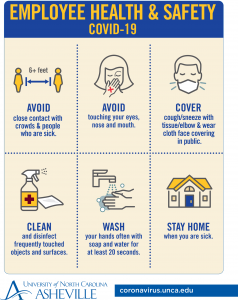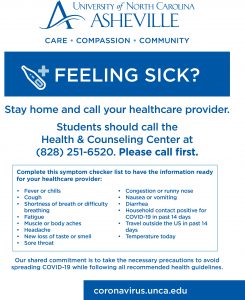 Provided by the Center for Disease Control (CDC) and the North Carolina Department of Health and Human Services (NCDHHS)
---
Digital Signage
Click on the images to download and add to your digital signage presentations. Contact webmaster@unca.edu with any digital signage questions.
---
Branded Materials
Masks
Departments who want to order additional masks or design and order University-branded masks should contact communication@unca.edu.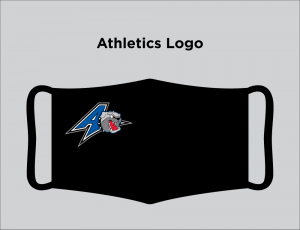 ---
Email Signatures
Add the UNC Asheville logo and mountains graphic to your email signature:

Open Gmail.
In the top right, click the Settings gear icon and then Settings.
Click See All Settings. Scroll down to the Signature section.
Add your signature text in the box (if you don't already have a signature).
Place your cursor under your signature text.
Click the Insert Image icon in the formatting bar.
Select Upload. Find the downloaded image.
Click Select.
Do not resize the image; the image is already adjusted to size.
To add the website URL to the logo image: Highlight the image with your mouse, and click the Link icon in the formatting bar.
In the dialog box that pops up, click Change.
In the To what URL should this link go? text box, remove any text and add the website unca.edu. Click OK.
Check that your signature now appears correctly.
At the bottom of the page, click Save Changes.
---
Zoom Backgrounds
Show your UNC Asheville pride wherever you are with these customized virtual backgrounds for Zoom meetings and webinars. Click the images to download. Learn how to add a virtual background here.